Section A:
Kaiaua to Thames
---
Distance: 55km (5-6 hours)
Trail Status: Notification
Fitness: All Levels
Skill: All Levels
Traffic: Light to Moderate
Grade: 1
---
Starting from the seaside village of Kaiaua in the North, the trail winds around the edge of the shallow Firth of Thames, over chenier shell banks and through wetlands of international significance.
At the Pūkorokoro–Miranda Shorebird Centre you can learn about the area's precious birdlife and incredible feats of the Godwits annual migration. Bird-hides offer the chance to view the shorebirds up close, and identify the various migratory species.
From Miranda Holiday Park and Hot Pools, the trail skirts around the Firth, following stop banks for much of the way. Expansive views of coastal wetlands, verdant farmland, and the volcanic Coromandel Ranges provide a dramatic backdrop. Refreshments are available in the villages of Waitakaruru, Pipiroa, Kopu and Thames.
From the Kopu Bridge the trail turns north to reach Thames. Built on the pioneering industries of gold mining and kauri logging, it's full of character with plenty of dining and accommodation options. As you approach the town centre, stop and enjoy the many sculptures along the community's Arts Trail.
Please note:
Phone coverage is generally good.
Gun dogs are permitted on this section during the duck hunting season only.
All dogs are allowed between Kopu and Thames.
Have you ridden the Trail recently? We need your feedback to help us secure future funding to take the Trail from Good to Great. Please take a few minutes to complete the Survey, and be in the draw to win a Kennett Brothers Cycle Trails Book.
---

DOWNLOAD TRAIL MAP
Highlights include:
Soothe tired muscles at the Miranda Hot Springs
Experience and learn about precious birdlife along The Shorebird Coast
Expansive rural tranquility and landscapes
Historic Kopu Bridge and the Waihou River
Accommodation
Kaiaua to Thames
Dine & Drink
Kaiaua to Thames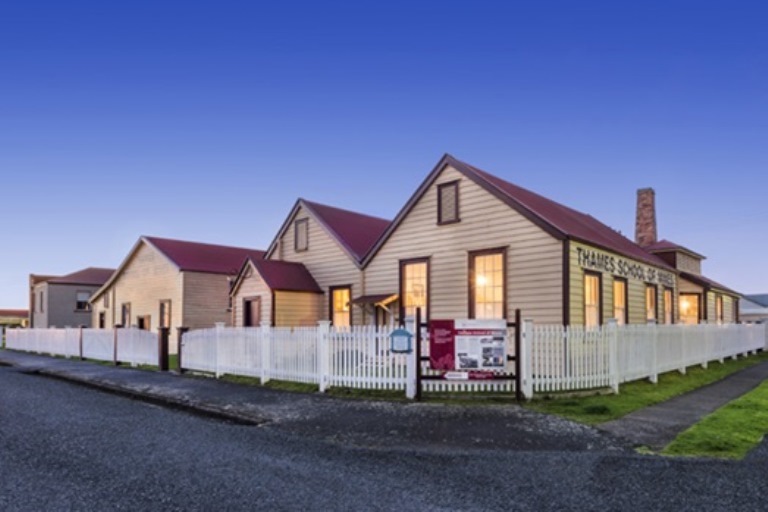 Thames School of Mines
Adults $10.00
See intriguing education buildings, classic gold rush machinery, and a vast collection of minerals
FIND OUT MORE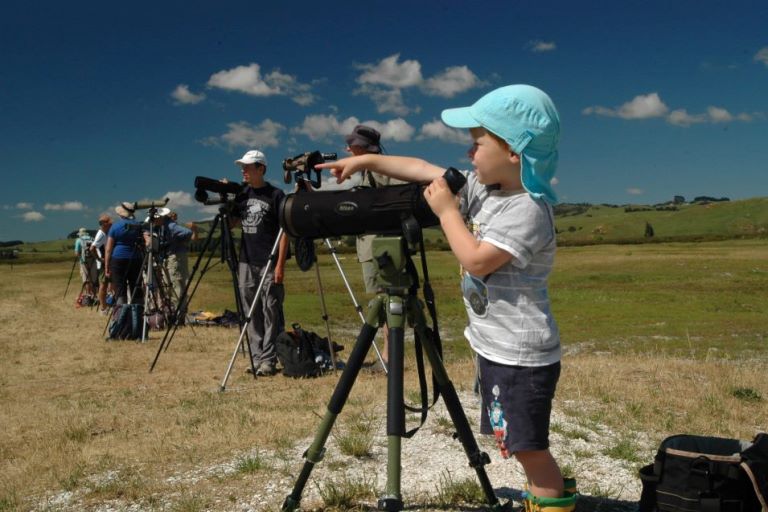 Pūkorokoro-Miranda Shorebird Centre
Pūkorokoro-Miranda Shorebird center invites you to birdwatch in a fantastic coastal setting.
FIND OUT MORE
The original settlers, were the Toi people (Pūkorokoro/Miranda – Kaiaua) and Ngati Maru (Thames). By the 1600's Tainui's Ngati Paoa people had begun to arrive and eventually settled both sides of the Firth and the Coromandel Peninsula.
On 16 November 1769 Captain James Cook in his ship Endeavour cast anchor off Tararu Point, about 2 miles north-west of the present town of Thames, and made a short excursion on the Waihou River by ship's boat.
HMS Coromandel brought the Reverand Samuel Marsden to the district in June-July 1820. In 1821 Hongi Hika and a large war party arrived in the district and, by an act of treachery, captured the impregnable Te Totara pa near Thames and killed at least 1,000 inhabitants.
The first reference to Europeans near Pūkorokoro/Miranda – Kaiaua came in 1832 when a trader from Port Waikato sheltered from a storm near Whakatiwai (north of Kaiaua) and discovered a Mr Jones from Sydney already living and trading there.
The Reverand Henry Williams and party passed through the Thames district in October 1833 and chose a site for a mission at Te Puriri (now Puriri, 9 miles south-east). The site proved to be unhealthy and in 1838 the station, occupied by the Reverand James Preece since 1834, was transferred to Parawai (part of the present town of Thames). Preece worked there until 1847.
Miranda is named after one of two corvette ships which arrived in the Firth to support European troops engaging in battle against Maori in the 1860s. The troops lived in a redoubt at Pūkorokoro Creek, opposite the old limeworks. The redoubt was the first place in the area to be named Miranda.
On 27 July 1867 J. Mackay, Civil Commissioner for the Hauraki district, secured gold-mining rights from three Maori chiefs for the Thames area. In August Mackay laid out the town of Shortland and brought a party of 40 miners and officials from Auckland. A general rush followed. The first important reef, called the Shotover, was discovered on 10 August by William Hunt; it lay beneath a waterfall on Kuranui Stream. Gold to the value of nearly £2,000,000 was produced in the peak year of 1871. Although there was occasional heavy production in certain subsequent years, the output of the field steadily declined until, by 1924, it had almost ceased.
The Pūkorokoro/Miranda – Kaiaua area was opened up to European settlers in 1869 and two present-day families, the Findlays and the Douglas', were among those first farming settlers.
Shortland quickly became a compact town with a wharf and good port facilities for small vessels in the nearby river. Robert Graham secured a lease for a township – Grahamstown, which was laid out according to a Government plan. There were some major mining properties nearby and a deep-sea wharf was built at Tararu Point and connected to the township by railway. These two towns merged into one residential area after 1870 and, together, became known as Thames.
Shipping services on the Waihou River had extended to Te Aroha by the early 1880s. It was not until the early 1880s that a road suitable for wheeled traffic was opened between Thames and Te Aroha. Thames was linked to Te Aroha and Hamilton by rail on 19 December 1898. The borough of Thames was constituted on 8 November 1873. The name is derived from that given the Waihou River by Captain Cook. All shipping on the river ceased in 1947.
A limeworks was established at Pūkorokoro/Miranda in the 1930s to provide cheap lime for the local lime-deficient farms and there were several workers' houses and a manager's house nearby. These works eventually closed down in the early 1950s.
The main farming activities of the district have been sheep and cattle raising, dairying, market gardening, fruitgrowing (pip, stone, and citrus varieties), and viticulture. Port wine is made at Totara (about 2 miles south-east). The Firth of Thames area has always been known for its wealth of fishing stock. However, the Hauraki Plains area was originally a peat swamp which took many hours of diging and draining to get it to the lush Dairy Farming land it is today. The New Zealand Dairy Company, had a Cheese factory at Waitakaruru. To get good drinking water farmers would put down a bore. Mr H.R. Clover who obtained farm land in the 1910 Ballot at Waitakaruru attempted to put his bore down. First was 52 feet of clay, then as the bore went down, there was recorded 18 ft of pumice sand, 4 ft rotten timber, 5 feet clay, 10 feet rotten timber, 2 feet sand, 13 feet rotten timber, 4 feet sand and so on to a depth of 276 feet where it was stopped.
There seems to be a definite fault line of hot water running from the Pūkorokoro/Miranda area, across the Plains from Waitakaruru to Kerepehi, then Te Aroha, Matamata and further.
Thames is a trade and servicing centre with associated secondary industries. It is also an important base for commercial fishing in the Firth of Thames and elsewhere in Hauraki Gulf. Town industrial activities include fish packing and curing; sawmilling; general engineering; the manufacture of steel tubes and other products of heavy, medium, and light metal industries; concrete products; knitwear and other clothing. There was a brass foundry at Parawai on the south-east of the borough. Since the late 1950s active re-examination of old gold workings has been undertaken and there has been some prospecting for new ore bodies.
Today much of the land around the Pūkorokoro/Miranda area and through the Hauraki Plains is used for dairy farming. In Thames, Toyota have a factory (Thames Vehicle Operations facility), who work on used imports and ex-lease vehicles, refurbishing them and certifying them to specific standards and market them under their 'Signature Class' brand.