4 Day (Cruising)
---
Distance: 160 kms
Fitness: All Levels
Skill: All Levels
Traffic: Light to Moderate
Grade: 1
---
4 Day (Cruising) - 160-184 kms
This 4 day ride gives you the opportunity to cruise along and get off the Hauraki Rail Trail and see some of the attractions and activities this area has to offer. At the end of the ride take a shuttle back to your start point.
Day 1 – Kaiaua to Thames (55kms)
Ride along stop banks beside the Firth of Thames taking in the Kaiaua Shore Birds, lush farm lands and wetlands with magnificent views to the Coromandel Ranges. Secure parking is available at Miranda Hot Springs ($20 per day)
Day 2 – Thames to Paeroa (34kms)
Stop at cafés along the way to refuel before taking a look at the antique shops of Paeroa.
Day 3 – Paeroa to Waihi (24kms)
Take time to explore the majestic Karangahake Gorge, swim at one of the swimming spots along the way. Enjoy a goldmine tour while in Waihi.
Day 4 – Waihi to Te Aroha (47kms)
Take the Train from Waihi back to Waikino, and enjoy the downhill ride through the Karangahake Gorge back to Paeroa. Follow the Hauraki Rail Trail south to Te Aroha and finish off with a soak at the Te Aroha Mineral Spa.
---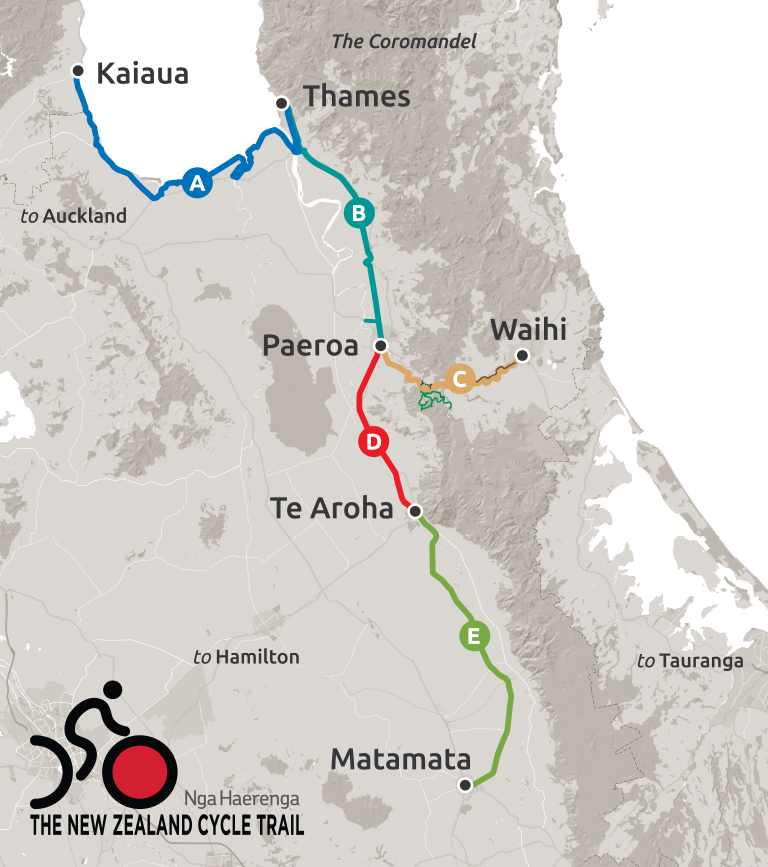 DOWNLOAD TRAIL MAP
Highlights include:
The stunning Firth of Thames.
World renown Wetlands.
Rich pioneering and gold-mining history.
Rural Tranquillity with views of the Hauraki Plains and the Coromandel and Kaimai Ranges.
The opportunity to do some antique shopping.
Explore the dramatic bush clad Karangahake Gorge including the 1.1km railway tunnel.
Visit the beautiful Owharoa Falls and take a swim in one of the swimming holes.
Take a leisurely ride on the vintage train.
A soak in the mineral baths at Te Aroha.