3 Day (Advanced)
---
Distance: 197kms
Trail Status: Open
Fitness: All Levels
Skill: All Levels
Traffic: Light to Moderate
Grade: 1
---
3 Day (Advanced) - 197kms
This 3 day ride is ideal for those who are wanting to cover the entire Rail Trail in the shortest possible time.
Day 1 - Kaiaua to Paeroa (83kms) Depart Kaiaua, coasting along the chenier plains. Hop off your bike and take a short walk up to the Bird-Hides at the Robert Findlay Reserve, then make your way through the wetlands. Take the short detour to Thames following the arts trail, where you'll find great lunch options. Heading east, travel through lush farmlands to Paeroa. Arrive in time to explore the antique shops, and quench your thirst with a bottle of 'Famous in New Zealand' Lemon & Paeroa.
Day 2 - Paeroa - Waihi - Paeroa (48kms) Travel from Paeroa through the Karangahake Gorge to Waihi. Take time to explore gold mines, relics and breathe in the majestic scenery. Return to Waikino on the vintage train. A whole day can be spent in the Gorge, as there is plenty to see and do.
Day 3 - Paeroa to Matamata (60kms) Travel south under the watchful gaze of Mount Te Aroha. Explore the art work of Adrian Worsley in Te Aroha township, and enjoy the domain with its spa pools, geysers and walking tracks. Head south crossing over the active train line that passes under the Kaimai Ranges. From Firth Tower, it is a short journey into the township of Matamata, home of the Hobbition Movie Set. Cold refreshments and great food await, or book early to enjoy an evening out at the Green Dragon Inn.
---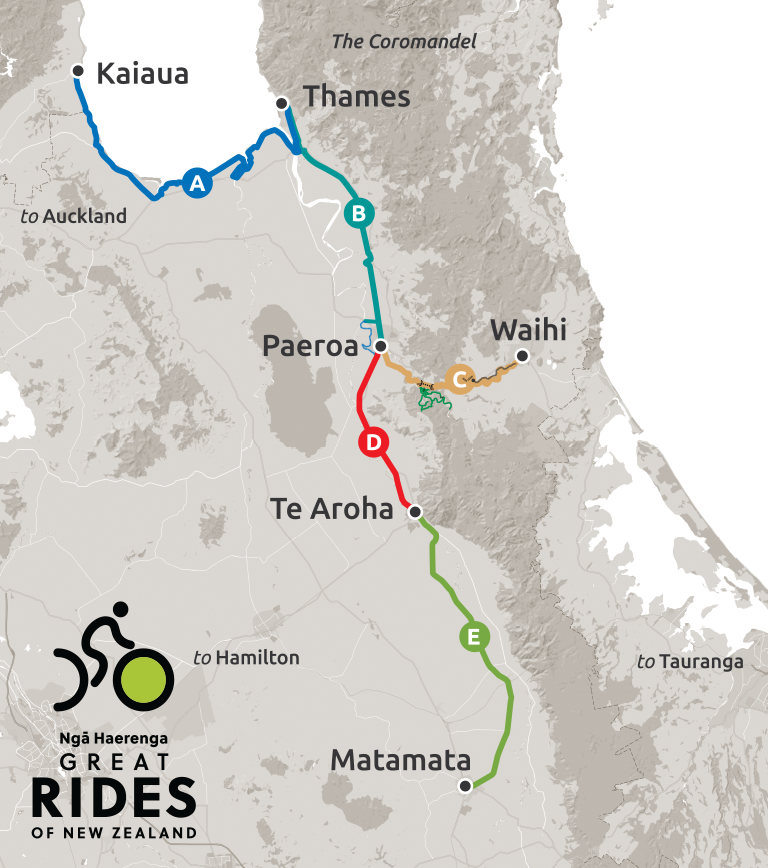 DOWNLOAD TRAIL MAP
Highlights include:
The stunning Firth of Thames.
World renown Wetlands and Shorebird Coast.
Rich pioneering and gold-mining history.
Rural Tranquillity with views of the Hauraki Plains and the Coromandel and Kaimai Ranges.
Antique shopping in Paeroa.
Explore the dramatic bush clad Karangahake Gorge including the 1.1km railway tunnel.
Take a leisurely ride on the Goldfields Railway vintage train.
Take the Gold Mine Tour at Waihi Gold Discovery Centre.
Soak in the mineral baths at the Te Aroha Mineral Spas.
Book ahead and enjoy an evening tipple at the Green Dragon Inn at Hobbiton Movie Set.