Journey along the Hauraki Rail Trail, one of New Zealand's oldest railway corridors. Dating back to 1898, the Trail travels through some of New Zealand's most beautiful countryside and townships steeped in history.
Day Rides:
Section A: Kaiaua to Thames - 55km (5-6 hours)

Starting from Kaiaua in the North, this section of trail follows in the footsteps of an early Māori settler, Te Aho. As it winds around the edge of the shallow Firth of Thames over chenier shell banks, the trail passes through wetlands of International importance. The abundance of migratory shorebirds provide a magical opportunity to learn about the area's precious birdlife, before heading out to the hides to see them up close.
Section B: Thames to Paeroa - 34 kms (3-4 hours)

This richly historic area was once only accessible via the two rivers, Waihou and Hikutaia. Following the old railway line out of Thames township, the trail promises lush farmland and impressive views of the Hauraki Plains and forested Kaimai Ranges. The Cheese Barn at Matatoki is worth a stop. Drop into the Paeroa Historical Maritime Park, once New Zealand's most inland port, and catch the riverboat into town.
Section C: Paeroa to Waihi - 24 kms (6 - 8 hours Return)

Take two days to explore the most popular section which follows the Ohinemuri River through the spectacular Karangahake Gorge. This distinctly different landscape features the cascading Owharoa Falls, photogenic gold mining sites, and spooky Windows Walk. Pack a headlamp for the 1100-metre long railway tunnel, and the Goldfields Railway vintage train is a Must Do. For a little bit of luxury the Falls Retreat offers award winning dining and boutique accommodation options.
Section D: Paeroa to Te Aroha - 23 kms (2-3 hours)

Heading south, this leisurely section passes through lush Waikato farmland dotted with dairy cows and farm animals. The Kaimai-Mamaku Ranges and Mt Te Aroha (952m The Mountain of Love), and expansive views over the Hauraki Plains are a feast for the eyes. Pack your togs and make the most of Te Aroha Mineral Spas. It's a great way to soothe pedal weary muscles at the end of a ride.
Section E: Te Aroha to Matamata - 37 kms (2-4 hours)

Relax and make the most of this simple journey past goat, dairy and thoroughbred farms. As you approach Matamata look out for the majestic Wairere Falls - the highest waterfall in the North Island. Stop at the Firth Tower to enjoy the tranquil gardens and explore the museum displays. A visit to Hobbiton Movie Set is a Must Do. Take a Tour, feast like a Hobbit, or simply enjoy a tipple at the Green Dragon Inn.
---
Multi-day Rides:
5 Day (Cruising) - 197 kms

Stay and play for longer in our magical region and make the most of all of the attractions and activities along or near the Trail. Take a break, escape, and adventure. The 5 Sections of Trail vary in length from 23km to 55km, which means you can comfortably tick off one section each day. With good preparation, research, and planning, a self-guided ride offers freedom and independence. You can ride at your own pace, take extra photos, and laze for longer over lunch.
3 Day (Advanced) - 197kms

Are you a speed demon or short for time? This ride is for fit and experienced cyclists on a tight schedule, head down and pedals cranking. There's no need to miss out on anything, just pack it all into three days. Ride it like you stole it, and cover 197km and tick the entire Hauraki Rail Trail off your list. With great options for overnights, there's every opportunity to soak up the best the region has to offer.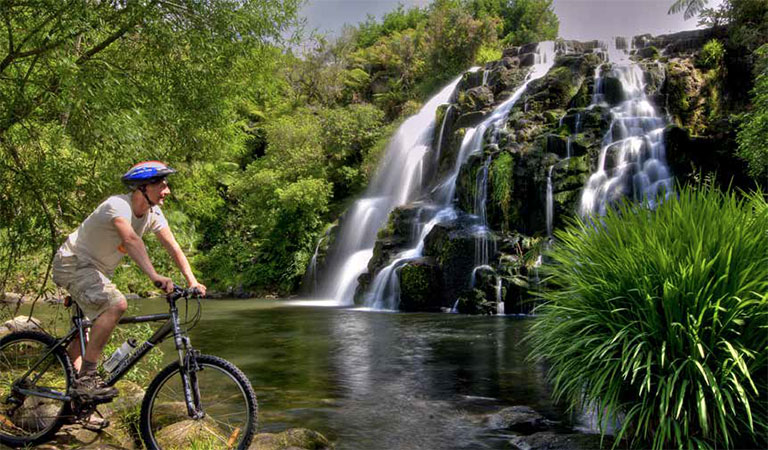 Plan your ride
The Hauraki Rail Trail is a short drive from Hamilton, Auckland and Tauranga and is accessible from all main centres along the Rail Trail.
The temperate climate on the Coromandel Peninsula and the Hauraki Plains provides a perfect all-year round riding experience. Remember to pack water, snacks and warm clothes, in case you get caught in a tropical shower.
The Hauraki Rail Trail is fully serviced with supported tours, shuttle services, luggage transfers, standard and electric bike hire services, laundromats and showers.
You can find details for each Section Trail Head here.