Your journey on the Hauraki Rail Trail takes you along one of New Zealand's oldest railway corridors, dating back to 1898, and travelling through some of New Zealand's most beautiful countryside and townships steeped in history.
Day Rides:
Section A: Kaiaua to Thames - 55km
GRAND OPENING - 18 November. Bring your bike, your family and get ready for a day of festival fun and riding or walking the newest section of the Trail. Internationally renown for its 'Wetlands of International Significance' and migratory shorebirds.
Section B: Thames to Paeroa - 34 kms
Farm to Gate, with cheese factories and wineries, while passing through tranquil farmland
Section C: Paeroa to Waihi - 24 kms
Riding through the historic and scenic Karangahake Gorge past gold mines and through the 1km long tunnel.
Section D: Paeroa to Te Aroha - 23 kms
A leisurely ride through lush farmland under the gaze of Mount Te Aroha ('the Mountain of Love')
Section E: Te Aroha to Matamata - 37 kms
An unexpected journey past goat, dairy and thoroughbred farms, with views to the Wairere Falls and the Firth Tower to Hobbiton (Matamata)
---
Multi-day Rides:
4 Day (Cruising) - 160 kms
A leisurely ride with time to take in all this area has to offer
2 Day (Advanced) - 154kms
Ride it like you stole it!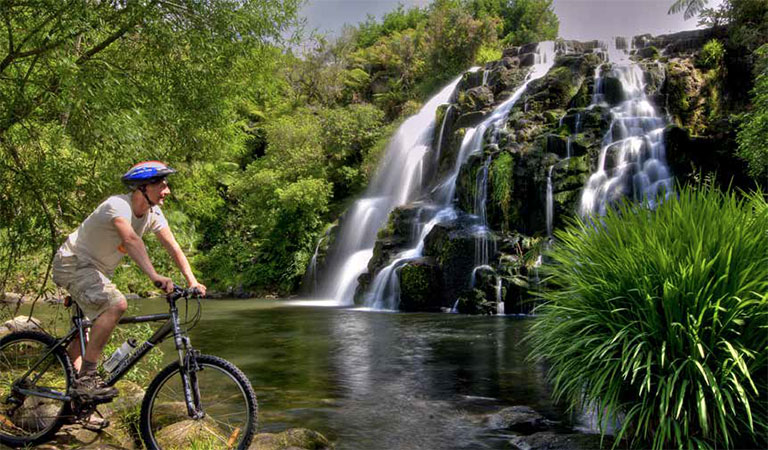 Plan your ride
The Hauraki Rail Trail is a short drive from Hamilton, Auckland and Tauranga and is accessible from all main centres along the Rail Trail.
The temperate climate on the Coromandel Peninsula and the Hauraki Plains provides a great all-year round riding experience, but remember to bring water and snacks along with warm clothes, just in case you get caught in a tropical shower.
The Hauraki Rail Trail is fully serviced with supported tours, shuttle services, luggage transfers, standard and electric bike hire services, laundromats and showers.